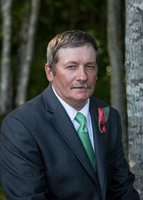 Wayne Wile
Wayne Dwight Wile was born October 2, 1959 in Windsor, NS. The son of Ronald & Agnes "Doll" (Spencer) Wile, he lived his married life in Riverside, Lower Burlington, Hants Co., NS with his loving wife of 43 years, Kim.
Working for years as a master technician, he happily spent the last of his career at Chris Scott Automotive. A friend to many and a jack of all trades, Wayne's favorite title was always that of Grampy and Daddy; his best times shared between family and friends at home.
When not working, Wayne could be found happily mowing his acres of pristine greens on his personally constructed golf course. He enjoyed his Sundays playing golf with the boys and hosted many tournaments. When the "Bedwetters" won a game, the "Bedshitters" would hear.
Wayne passed away in the early morning hours of March 3rd, 2019 in Riverside. following what would be his last drive up from the camp. He was found by his son beneath the snow in the spot where his daughter was married. After celebrating a birthday around a bonfire with the boys, his last moments were spent in a beauty of a storm he would have loved; retrieving a drag to groom the trails he knew like the back of his hand. A true outdoorsman, he always said that should he die in the woods, not to be sad, he would have died doing what he loved.
A man known for his work ethic, quiet manner and helpful ways, Wayne always had a unique and gentle way of letting those around him know how very much they were loved. His family is left devastated by his tragic loss. He will be deeply missed by all who knew him.
Survived by his wife, Kim (Benedict)Wile, daughter Candace (Scott)White and son Chad (Charmaine)Wile, grandchildren Julian, Lily, Jed, Avery, Brandi, Marissa, Kalon and great grandchildren Clara and Laina. Wayne also leaves to mourn, his parents Ronald & Agnes "Doll" Wile and siblings Joyce (Clarence)Hart, Bertram (Beryl), Ronald (Dorothy)Wile, Allan (Donna)Wile, Kim (Crystal)Wile, Kemberly Wile, and Marion (Ted)Doane. His many nieces and nephews, his boy Devin and the many other boys and girls he welcomed with open arms as if they were his own. Wayne was predeceased by his grandparents, Bertram & Kathleen Spencer, Mammie, Lillian and Ronald "Poppy" Benedict and nephew Greg Doane.
Cremation has taken place. Service to be held at Kempt United Baptist Church in Summerville NS, Saturday, March 9th, 2pm, Pastor Charlene Arseneau Reid officiating. Reception immediately following across the road at the Summerville Fire Hall, a private family burial will be a later date. Donations can be made to the Summerville Volunteer Fire Department. A very special thank you to the first responders who came and helped throughout the day. Arrangements have been entrusted to the compassionate care of the J. Wilson Allen Funeral Home, Summerville, ph- 1-902-633-2431 or please visit our website at www.allenfh.ca to sign the guestbook and send private condolences