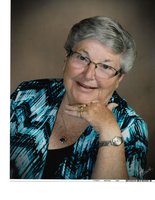 Sharon Thibeau
THIBEAU- Margaret Sharon, Age 78 of Bramber N.S, passed away peacefully on March 3rd, 2019 at the Hants Community Hospital, Windsor, with the love of her life, Frank, by her side. Born in Hamilton Ontario, June 28th, 1940, she was the daughter of the late Thomas and Marion Holmes (Carty)
Sharon lived life to the fullest and she carried on until she could go no more. She was a strong supporter of the veterans and was an active member of the Legion Poppy Campaign. She was always the first one in line to volunteer her services whenever needed.
She loved her friends from coast to coast as well as her special "family" in Florida. She will miss you all.
Sharon is survived by her loving husband, Frank; son Keith Andrew Harper, Ontario; daughters, Lisa Anne Wiper (Stephen), Dartmouth and Denise Elizabeth Harper, Alberta; as well as her grandchildren, Desiree, Brandy, Matthew, Michael and Rebecca. She is also survived by her sisters Diane (Mike) Uniack and Brenda Gale.
She will be greatly missed by everyone. The family wishes to express their thanks for everyone's support during this very sad time.
A celebration of life will be held on March 9th, 2019 at the Windsor Legion at 2pm. There will be a private family burial at a later date. Donations can be made to the Windsor Legion Poppy Fund, 35 Empire Ln, Windsor, N.S, B0N 2T0. Arrangements have been entrusted to the compassionate care of the J. Wilson Allen Funeral Home, Summerville, ph- 1-902-633-2431 or please visit our website at www.allenfh.ca to sign the guestbook and send private condolences.