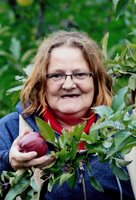 Gloria Poan
Poan- Gloria Jean- 71 of Riverside passed away peacefully at home surrounded by loved ones August 22nd, 2019. Born June 24th, 1948, she was the daughter of the late Frank and Cavell (Boutiler) Morash but Gloria was raised by her uncle (Dad) Joseph "Joey" Morash and (Mom) Laura Stevenson.
Gloria loved the outdoors, fishing and camping, particularly being on the farm and enjoying interacting with all the animals. She enjoyed playing bingo and trying her luck on scratch tickets. She had various jobs including a hairdresser by trade, working at a fish plant, waitressing and enjoyed picking apples as a pass time and extra income. Gloria "Mom" was the glue that held the family together and never stopped smiling regardless of life's obstacles.
Gloria is survived by her husband Ronald, sons; Ronnie (Patricia) Poan and John (Michelle) Poan, daughters; Rhonda Poan, Angela Poan (Kevin Brown), Jennie (Justin) Ward and Kimberly (Craig) Courdeau, grandchildren; Candice, Jonathan, Katie, Amanda (John), Matthew (Ashley), Margaret, Andrew (Crystal), Micheal, Cavell, Melissa, David, Joseph, Spencer, Jessica, Sebastian, Austin, Craig Jr, Timmy lee, Jasmine and Justina, great-grandchildren; Mikaila, Zachary, Kaileigh, Brianna, Savanna, Nevaeh, Zander, Alayna, Maddix, Angel, Damon, Lily, Noah, Isiah and Kenzie, brothers; Bobby Burns, Kevin (Jane) Morash and Ronnie Meakins, sisters; Frankie Morash, Lisa Morash and Sharon Burns.
Besides her parents Gloria was predeceased by Brothers; Mobey and Alex Morash, sisters; Madeline Morash, Jennie Murphy and Louise Stevenson.
Cremation has taken place with no service by Gloria's request a celebration of life will be held Friday, August 30th at 11am at Angela's home; 563 New Cheverie Rd. A private family committal service will be held at a later date, donations in memory of Gloria can be donated to charity of choice.
Arrangements have been entrusted to the compassionate care of the J. Wilson Allen Funeral Home, 4646 Hwy 215, Summerville, ph-1-902-633-2431 or please visit our web site at www.allenfh.ca to sign the guest book and send private condolences.