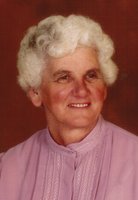 Estelle Barron
BARRON, Estelle Mae, 90, of Kennetcook, passed away peacefully surrounded by family on September 25, 2019. Born in Upper Kennetcook, she was the daughter of the late Ruel and Hazel Hannah (Hennigar) Garby.
Left to cherish her memory are daughters Pat (Craig) Anthony, Vivian (Doug) Wilson, and Rose (Jim) Ledwidge, and granddaughter Janet (Craig, deceased) Simm. Known affectionately known as Nan B or "B", she leaves behind eleven grandchildren, fourteen great-grandchildren, and one great-great grandchild.
We will miss the Sunday night suppers – homemade bread, and no less than two different pies for dessert. If we called early, she would "put on an extra potato".
She was predeceased by husband Lyall, brothers Laurie, Lewis, and Gerry; sister Alice Clark and infant sister Marion Bernice.
Mom was very much a part of the Kennetcook community, working at the General Store in the early years and as Postmistress for thirty-five years, retiring in 1991. She attended weekly card parties, helped with the UCW shop, Meals on Wheels, and was always willing and available to bake a pie or make squares. Mom enjoyed music and loved to dance. She and Guy could be found every weekend attending one of the dances in the area. Mom was very much an athlete in her younger years, and when no longer able to play sports, watched them on TV. Every summer she would keep track of the tide times in the bay and make her daily trip to the beach with a friend for a swim in the saltwater. She was an avid reader and looked forward to the weekly Lexicon in the newspaper.
Cremation has taken place with no visitation by request. A memorial service will be held Monday, September 30th, at 2 pm in the Kennetcook Chapel (formerly the Kennetcook United Church) Rev. Natalie Buchannan-Rutherford officiating. Donations in memory of Estelle can be made to the Kennetcook Cemetery. The family would like to extend a special thank you to the VON and Dr. Michele MacLean. Mom's signature line was "I don't think I'll be here for that...", but she celebrated her 90th birthday and was able to stay in her own home until her final days.
Arrangements have been entrusted to the compassionate care of the J. Wilson Allen Funeral Home, Hwy 354, Kennetcook, ph-1-902-362-2440 or please visit our web site at www.allenfh.ca to sign the guest book and send private condolences